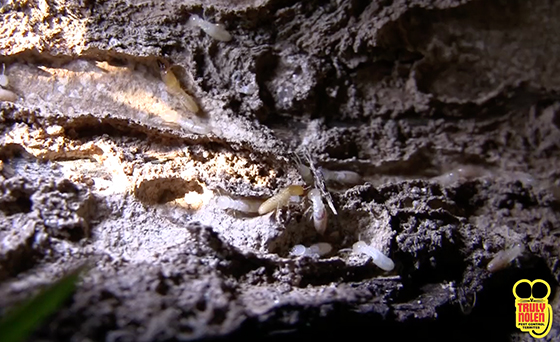 We provide the best termite control in The Villages. Termites are often referred to as "silent destroyers" because they do so much damage without even making homeowners aware of their presence! Being able to look around your home and spot a subterranean termite infestation isn't simple at all—mainly because the majority of termites live in places that are inaccessible or too small for humans to see. These areas include baseboards, interior walls, and crawl spaces. Sometimes, you may find signs of termite infestations in easier to see places, such as attics, door frames, wooden furniture, door frames, and window frames. Termites aren't limited to wooden delicacies inside your home either; decks, patios, porches, tree stumps, sheds, and garages are also a prime hot spot for a subterranean termite. Subterranean termites are voracious creatures that have little regard for the destruction they cause to homes and businesses or the messes they leave behind.
Termites can be a costly and nerve-wracking problem, but they don't have to be. You can be confident in subterranean termite treatment when you call Truly Nolen of The Villages.  Truly Nolen's Termite Control Protection Plan is a comprehensive strategy designed for your peace of mind. We use the proven system when it comes to termite elimination - Sentricon® with Always Active technology. This baiting system removes the most difficult part of any termite elimination program, finding the nest. Baiting works by simply placing the bait in the path of the colony's foraging termites. The job of foraging termites is to bring back food to the colony and queen. Since these termites know where the colony is, we don't need to . They'll deliver the bait to the colony for us, which kills the queen and the entire colony.
Recruit® HD termite bait is placed in all stations around your home, making it immediately available to termites. There is enough active ingredient in just one bait device to eliminate a typical termite colony, making Sentricon® with Always Active the most effective termite treatment option available. The Sentricon® with Always Active system begins protecting your home against termites right away. Even after the colony has been eliminated, Sentricon® with Always Active remains on guard, protecting your home from the threat of future invasions.
Sentricon® with Always Active is also environmentally responsible. It uses just a small amount of active ingredient in each Recruit® HD bait device and the bait can be removed at any time. It works with a termite's biology and does not pose a threat to humans, pets, or the environment. Only the industry's best are selected to install and service the Sentricon® System. These certified Sentricon® Specialists undergo extensive training and utilize state-of-the-art data management to be sure your home is properly inspected and protected.
If you suspect you have termites, call Truly Nolen for a free termite inspection. We'll come out at no charge and perform a thorough inspection. If you have termites, we'll customize a plan to eliminate them and prevent them from coming back. We guarantee it.
Did you know?
Termites help nature by breaking down wood and plant products.
Termites cost $5 billion in damages each year.
Most insurance plans do not cover termite damage.
Ohio is listed as having moderate-to-heavy termite activity.
About 1 out of every 5 homes in Florida will face an attack.