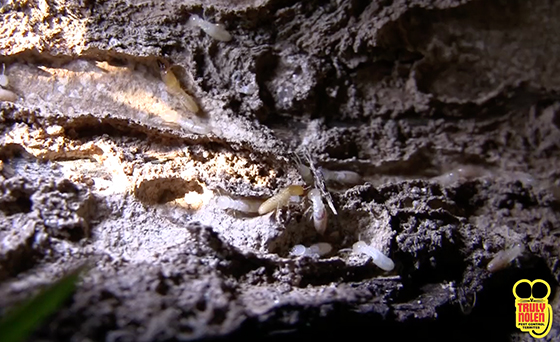 Searching for Termite Inspections Near Me?  With more than 80 years of experience and the highest quality training for our pest professionals, Truly Nolen Pest & Termite Control Asheboro NC is proudly offering Termite Control Services in Asheboro and the surrounding communities. Call us today at 336-602-1982 for your termite inspection.
Subterranean Termites usually are cryptic, meaning that they don't come out into the open making them difficult to detect, they need 1/64 of an inch to enter a structure. Subterranean termites are social insects that live in nests or colonies in the soil and they are often called the "silent destroyer" because they may be secretly hiding and thriving in your home or yard without any immediate signs of damage. Even when they are visible within the home as flying insects, termites can often be mistaken for ants.  Some homeowners will dismiss the termites as pesky ants (which often swarm at the same time of year) and ignore them without getting a Termite Inspection. This allows established termite infestations to grow exponentially. Remember that Subterranean Termites cause an estimate $5 billion dollars in damages in the United States each year and an average home suffers $7.900 in damages before termites are detected and termite damage is not covered by most homeowner's insurance.
One big question that we get is What does a termite look like? Cream-colored worker subterranean termites are flattened, relatively small (1/8 to 3/8 inch in length), Soldier subterranean termites have cream-colored bodies, brown heads, are of a similar body length, but are distinguished by their powerful jaws.
Termite's vs. Ants: Termite Swarmers, "Alates", can be identified by their straight, beaded antennae, uniform waists, and wings of equal size. Ants have elbowed antennae, constricted waists and forewings that are longer than the hind wings.
Prevention is the key and Truly Nolen Pest & Termite Control is providing Termite Inspections and Termite Baiting Station treatments to the communities of Asheboro NC.